Explore Our Downtown Delray Luxury Apartments
Whether you are new to the city or just looking to find a fresh part of town, you'll love exploring the vibrant area surrounding our downtown Delray apartments. Discover world class cuisine, designer shopping, and local favorites from our ideally located luxury apartments in Delray Beach, FL.
No route was found for the selected transit mode.
Delray Beach
Delray Beach is South Florida's most precious gem. Take a stroll along the white sandy shores or sit down with a good book under the shade of the whistling palms. There's so much to do, from surfing to paddleboarding, boating, biking and just catching some rays. It's the ultimate beach lover's paradise.
Mizner Park
This vibrant shopping district in Boca Raton features all the best shopping and dining experiences in the area. It's home to notable eateries like Truluck's, Twentytwenty and Boca Landing, as well as a variety of high-end boutiques and retailers. If you dabble in the world of art, you will love browsing the park's collection of galleries and museums at the north end of the development. There's something for everyone at Mizner Park.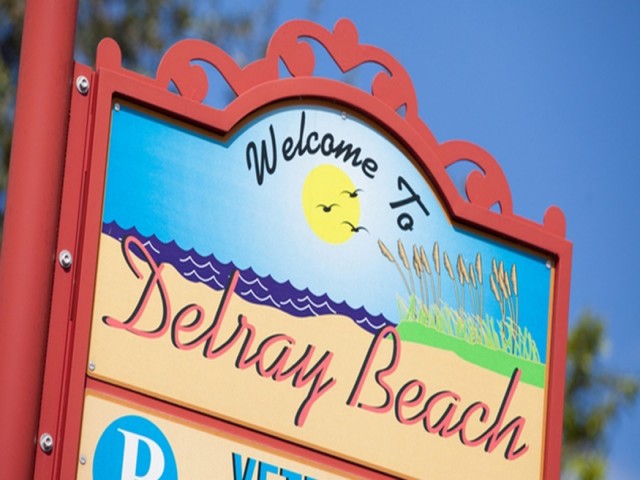 Downtown Delray Beach
See why locals and tourists alike love this tropical, vibrant community. Voted Most Fun Small Town in America by USA Today, Downtown Delray Beach is not only known for their eclectic blend of unique shops and boutiques or their top-rated diverse cuisines, but they are well-known for their friendly community atmosphere and laid-back vibes. See for yourself! Explore Downtown Delray today.

In Delray Beach, the things you dream about happen daily. In this vibrant community, the city's best restaurants, shops, and attractions await just outside your door. Of course, there are Delray Beach's legendary white sands, but there is more to it than first meets the eye. Look closer and explore every facet of your vibrant new community, from its surprising cultural delights like the Murikami Museum, to the beauty of Gulfstream park.